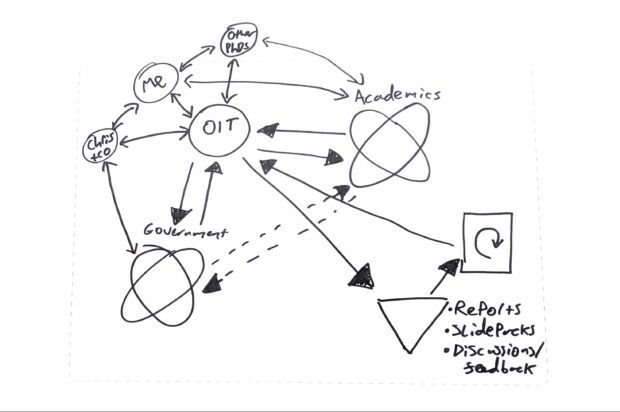 The Open Innovation Team (OIT) is a great example of disruptive innovation in government: in 2016 they crafted a completely new way of securing resources, creating services of value to multiple departments, and at the same time building new networks that enable more academics to engage with more policy makers more often.
With just four core staff and a slender budget, the team leveraged its position at the nexus of government and academia to unlock significant additional resources. By the end of the pilot phase in December 2018 they had:
created or catalysed 27 projects taking place between academics and 8 different government departments
secured support from 33 academic Policy Fellows from across academia, and 45 PhD students on 3-6 month internships
engaged with over 500 academics through 58 events connecting leading thinkers from the UK's universities with Whitehall officials
built strong links with the Research Councils, enabling access to their wide ranging expertise and deep networks of relationships with academics
Crucially, at the same time as delivering these more specific outcomes, the team began an important process of legitimising itself as a valuable, permanent and increasingly impactful part of the UK government.
How we evaluated the Open Innovation Team's impact
The challenge for us was evaluating this apparent success, a challenge well known in open innovation settings. When you catalyse activity across a diverse range of partners and projects not under your direct control, keeping track of progress and performance is very difficult.  If your team is small, entrepreneurial and busy this becomes even more difficult: the demands of success mean you cannot divert scarce resources to chasing up data from disparate organisations.
It is therefore very important to pause, reflect, and look deeply not only at the performance of individual projects but also the evolving nature of your work, your business model, the stakeholders who really matter, and the management challenges ahead as you seek to grow and deliver increasing benefits to government.
Our evaluation of the OIT sets out to do just this. Using the Open Valuation Framework, developed through our work across numerous sites of Open Innovation, we undertook a 14-month collaborative evaluation that is in line with the co-creation aspirations outlined in Michael Barber's 2017 report.  Through this process we set out to:
make visible the promising practices developed by the OIT, providing insights into its strategic choices, operating structures, and ways of creating value
shape management practice within the OIT through our analysis and recommendations
provide an evaluation of the OIT that yields actionable information for all stakeholders
To find out more, please visit the Open Valuation website where you can access the evaluation of the OIT.