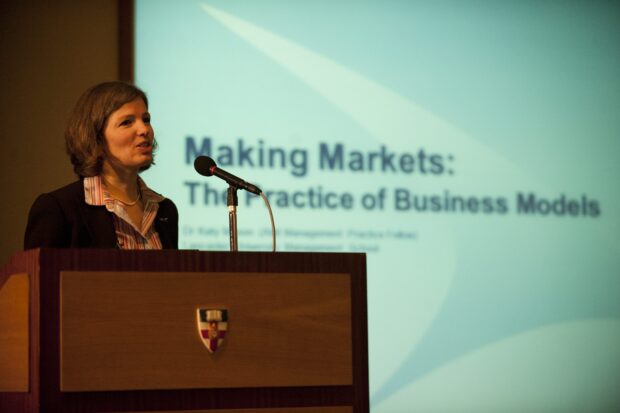 The beauty of public sector organisations is that they have robust and resilient institutional arrangements and routines that enable them to provide a continuity of service. Yet, these strengths can make it difficult to innovate.
In a recent study to understand how innovations can be catalysed, we found that it can take an outsider or a new incomer's questions to surface explanations of what is done by whom and how and why this is the case. Understanding existing practices can:
reveal how things might be done differently
generates a deeper understanding of why change might be difficult
identify where more instrumental or radical changes might have to be made to break existing habits and support the institutionalisation of new ones.
Take the example of the first iPhone. This was a technological innovation that slotted right in to how people work and so was accepted without question. This innovation transformed practice by stretching the work-day from early morning to late evening as email as such like demanded workers attention.
The iPhone example generates a couple of interesting insights. First, it suggests that not all innovation is good. When making changes we need to be prepared to experiment with small scale interventions, to see unexpected and expected changes. We need to collectively reflect on the impact before scaling up.
Second, the technologies and spaces of work shape what we do and how well we do it. To bring about change, material or physical reorganisation is often needed. Visual and physical changes reconfigure the way things are done. These ideas are being used to not only hold changes in place, but to develop options for innovation in the first place. Design techniques and materials, used in projects such as Leapfrog at ImaginationLancaster, are transforming public sector engagement, while projects such as the Social Innovation Lab Kent 'SILK', creates a forum to explore council and community innovation options and pilots. The projects show how practices can be collectively re-imaged and carefully configured by new material arrangements.
Third, build innovation bottom up. Exploring frontline workers' problems and how they have tried to overcome them should be central to developing new solutions. The first iPhone worked so well because it fitted in with what people actually wanted to do. For organisations to put in place a continuous cycle of innovation, it needs to involve front line workers in identifying problems, encourage them to generate ideas, develop proposals, implement and evaluate innovation projects and seek their thoughts on spreading innovations throughout the organisation.