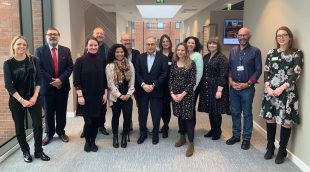 As regular readers will know, the Open Innovation Team works with academics and other experts to help generate analysis and ideas for policy. We recently refreshed the slides we use to introduce ourselves to public sector policy customers, so we thought we'd share them here on the blog. Do get in touch if you want to know more about how we work, if you have a project you need help with, or if you want us to present at a meeting. Our team email is enquiries@openinnovation.gov.uk.
One piece of work we reference in our intro slides is a project that we delivered earlier this year for the National Leadership Centre (NLC), a Cabinet Office team which supports senior public sector leaders across the UK. Our NLC colleagues wanted to inform their longer term strategy by better understanding the evidence about leading across boundaries, identifying key debates and gaps in that research, and building a network of relevant experts. 
We brought academics and officials together by facilitating four workshops, hosted by the University of the West of England (in Bristol), LSE, University of Birmingham and remotely in collaboration with Northumbria University. We also commissioned and edited 17 accessible articles written by academics, produced a series of engaging videos, and delivered a concise summary pack of the key insights. Some of this content has already started being published, alongside a forthcoming series of evidence-informed lectures. 
Team members Olivia O'Sullivan and Tessa Dowdell led the project and received really positive feedback from NLC colleagues, as well as from many of the 64 external experts who contributed to the project.

Here's a quote from one of the NLC clients: 
The team were really engaged from the outset, had a good understanding of the brief and what we wanted to achieve but also worked in partnership with us to make sure what was being proposed and delivered aligned with our vision
The experts who contributed to the project shared positive feedback too, such as: 
Very constructive and well facilitated. Inspiring, knowledgeable speakers. A super day ... allowed everyone to explore issues in an open, and in depth manner
We're currently busy delivering a wide range of other fascinating and high priority projects for clients in the Cabinet Office, DfE, Home Office, MoJ, Geospatial Commission and others. But, we're always on the lookout for new work where we can have a positive impact, so do feel free to get in touch if there's something you think we could help with.