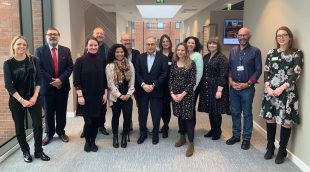 As regular readers will know, the Open Innovation Team works with academics and other experts to help generate analysis and ideas for policy. We recently refreshed the slides we use to introduce ourselves to government policy customers, so we thought we'd share them here on the blog. Do get in touch if you'd like to discuss a project or want us to present at a meeting. Our team email is openinnovation@cabinetoffice.gov.uk.
One big piece of work we reference in our intro slides is a project on leading through complexity, that we delivered for the National Leadership Centre (NLC) earlier this year. It involved four workshops bringing academics and officials together in Birmingham, Bristol, London and online, 17 articles written by academics with a bit of editing from us and a slide pack summarising key insights. 
Team members Olivia O'Sullivan and Tessa Dowdell led this project for us. They did a fantastic job, getting some lovely feedback from our NLC colleagues, as well as many of the 64 academics who contributed to the project.

Here's a nice quote from NLC colleagues explaining how much they enjoyed working with us:
The team were really engaged from the outset, had a good understanding of the brief and what we wanted to achieve but also worked in partnership with us to make sure what was being proposed and delivered aligned with our vision.
We're currently busy delivering all sorts of interesting projects for Cabinet Office, DfE, MoJ, the Geospatial Commission and others. But we're always on the lookout for new work, so do feel free to get in touch if there's something you think we could help with.