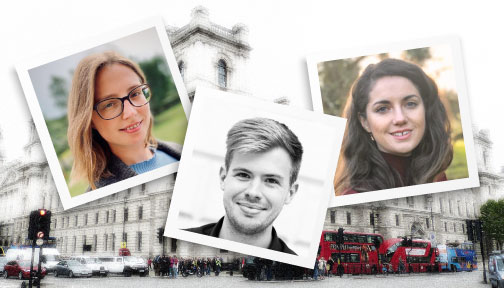 One fantastic and unusual feature of the Open Innovation Team is that lots of PhD students come to work with us on placements of 3-6 months. Our first PhD student joined us back in 2016, and now, four years later, we're welcoming our 50th. To mark the occasion, we thought we'd share a few stats and speak to some of our former PhDs to find out what they're up to now.
66:

the total number of PhDs placements we've organised so far.

50:

the number who've done a placement in the Open Innovation Team.

20:

the number of different universities we've hosted PhD students from, including Newcastle, Royal Holloway, UCL, Cambridge, Lancaster, Manchester, Warwick, Southampton and Princeton.

7:

the number of PhD students who've done a placement with us before going on to get a job in policy.

6:

the number of other central government departments we've helped organise PhD placements for, including the Department for Health and Social Care, HM Treasury, and the Department for Culture, Media and Sport.

4:

the number of PhD students we've usually had in post at a time.
Our PhDs work alongside experienced OIT staff on live policy projects, so they get a great taste of the policy making process, including plenty of its challenges and frustrations. Happily, most end up really enjoying themselves, and some even decide to pursue a career in policy. It's always wonderful to hear when one of them has landed a job, whether it's in central government, back in academia or elsewhere.
Thanks to all the PhDs who've worked with us over the past four years. They've been enthusiastic, creative and incredibly hard working. We couldn't have achieved anywhere near as much as we have if they hadn't been around. Here's to the next 50! 
Feedback from PhD students who've done a placement with us
My current role is as a Policy Advisor at MHCLG. I was on secondment in the OIT for six months in 2018, just about to start the third year of my PhD and considering a career in the Civil Service.

The experience of working in the team was invaluable: I gained an insight into policy-making and government, which informed my career choices. My colleagues and I were also given real responsibilities to develop projects on wide-ranging policy areas across government. It was very helpful to see the transferable skills that a PhD had to offer in a policy-making setting, and develop an understanding of the opportunities available outside academia. Perhaps the most useful learning was just that: the processes of open innovation itself. This is learning which I've sought to apply in my current role, including big picture thinking, developing networks, bringing people together to better understand policy problems and locate innovative, evidence-based solutions.
Sophia Peacock, Policy Advisor,
Ministry of Housing, Communities and Local Government 
I'm now a Senior Policy Advisor at DCMS, working to tackle the spread of online misinformation and disinformation. In this role I'm drawing on the core research skills developed throughout my PhD, as well as skills and insights developed during my time with the Open Innovation Team, such as stakeholder engagement and approaches to collaborative cross-government working. Through the Open Innovation Team, my team has also hosted PhD secondees to support and bolster our research agenda.

I would strongly encourage anyone undertaking a PhD to consider a placement with the Open Innovation Team as it provides a great opportunity to learn about central government, its processes, and the important role academia plays in the policymaking process.
Christian Butterworth, Senior Policy Advisor,
Department for Digital, Culture, Media and Sport 
I now work as a Lecturer in Law at the University of Lincoln Law School and feel I am a more well-rounded researcher as a result of my time with OIT. The experience has dispelled, what was to me, the mysterious academic skill of producing research with "impact", revealing exactly how academia can shape and inform government policy and practice. Importantly, Chris and the team have developed a unique space within government which offers PhD students not just an opportunity to work in a policy focused environment, but also to be part of an enriching, supportive and friendly team whilst doing so!
Faye Bird, Lecturer in Law,
University of Lincoln