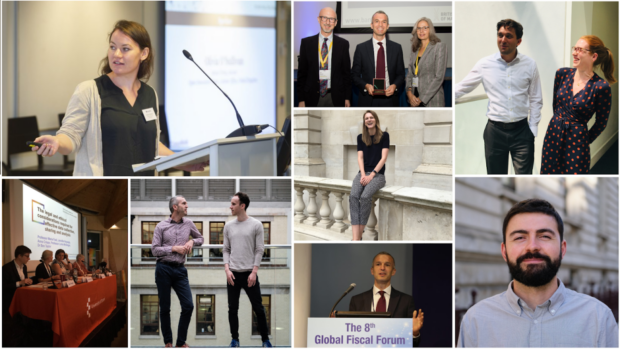 Some of you have been asking for more detail on what the Open Innovation Team does so I thought I'd have a go at summarising it here on the blog. I've also put our latest 'Working with the Open Innovation Team' slides up on SlideShare. 
Demand-led support
Our team helps policy-makers generate analysis and ideas by deepening collaboration with academics. Colleagues from across Whitehall, and sometimes further afield, approach us requesting support on projects where they think academic insight might be useful. We'll do some scoping and, if we decide a project is a good fit for us, we'll offer to help. 
Responding to a clear demand for support is an important part of our strategy because it's a good way of increasing our impact. We do sometimes try to suggest our own projects or take a risk on a project where the demand is less clear, but these kinds of projects are rarely as successful. 
Each piece of work will normally be led by one of our fantastic senior policy advisors (i.e. an experienced official) with support from one or two PhD students and input from me at various stages. 
We're busy and getting busier all the time. I expect us to deliver well over 20 policy projects this year, with 5-6 projects in progress and another 10-12 being scoped at any time. It's a broad range of topics too, including education, health, technology, democracy, crime, justice, civil service reform and many others. The pace and variety are fantastic and we're all happy to be doing such interesting work.
Scoping
So, what happens when a policy customer approaches us? We usually begin by spending a couple of weeks scoping the project. That means we'll review policy docs, map some of the relevant academics and centres of excellence, familiarise ourselves with the key policy challenges and give some thought to what we can offer the customer. We'll put all this into a slide pack and try to use it as the basis for a decent conversation about what the customer needs and how we can help them.
Delivery
If the project is agreed, we'll move into the delivery phase, which can last anywhere from a week to a year depending on what the customer wants.  
What we actually deliver varies a fair bit from one project to the next, but typically includes:
Engagement

: we arrange events of various kinds (e.g. seminars, workshops, roundtables, visits, conferences) to bring officials and academics together to discuss the issue at hand. This is a valuable way of helping colleagues to discuss their challenges with experts, ask questions and test ideas. Importantly, it's also a really useful way of identifying opportunities for collaboration and spotting which academics might be most suited to collaborating, either with us or with colleagues.
Analysis: we produce a number of written outputs, either in collaboration with academics or drawing on their expertise. A Rapid Review is basically a 15-20 slide summary of the latest academic thinking on a topic, centered around interviews with the academics we've identified. A Deep Dive is a longer version of the Rapid Review and includes a more in depth review of the academic literature, more interviews and ideas on follow ups or policy changes. Sometimes we'll produce a standard looking piece of civil service advice in the form of a numbered note.
Ideas

: if the opportunity comes up, we'll work up policy ideas and present them to colleagues for announcement or inclusion in an upcoming policy paper. This won't always involve collaboration with an academic. They might have inspired an idea, but don't always need or want to be involved in the detail of how it's designed. 
Feedback
We've recently started doing something that we should have done from the beginning: systematically gathering feedback from customers about how satisfied they've been with our work and where we can improve. This has given us some useful steers on where we can improve, which we might return to in a future blog. It's also confirmed that customers are generally very happy with what we do, giving us an average satisfaction score of 4.5 out of 5 so far in 2019.
Events and other work
We don't spend all our time on policy projects. We also organise more general events, such as our brilliant Thought Experiment series, reflect on how we can improve, develop new tools that we think might be useful to colleagues and deliver benefits for our partners, such as one day Policy Schools for their students. 
Anyway, I hope that gives anyone who's interested a clearer sense of what we do in the OIT. As always, if you have questions or suggestions, please do feel free to get in touch.
enquiries@openinnovation.gov.uk | @openinnovteam